It's not too late for us to wish you a Happy New Year, Sabaidee Pi Mai Lao! Laos celebrated the New Year a couple of weeks ago and in Luang Prabang the festivities went on for a full week. There were processions, music and dance performances, and traditional Lao games and sports. During the celebration, people pour water on each other as a symbol of washing away bad luck from the previous year and welcoming the new year with a fresh start.
If you're thinking about traveling to Laos next year for Pi Mai, this is a little taste of it.
If you were in Luang Prabang for the celebrations this year, we hope this video and these pictures bring up some nice memories. If you're thinking about traveling to Laos next year for Pi Mai, this is a little taste of it. It would be a very long blog if we were to go into details about all the activities…
Closer to the date, it would be best to check with local authorities or travel agencies for more specific information about the event schedule, as it may vary from year to year. If you're curious, you can have a look at this article to see what was planned in 2023. We usually list our Pi Mai celebrations on our website or you can check our social media accounts on Facebook and Instagram (@ockpoptok). In the meantime, enjoy some highlights from this year's Pi Mai celebrations in Luang Prabang!
Sabaidee Pi Mai! What to expect ?
At Ock Pop Tok, we always welcome the New Year with a baci ceremony. It's a very important ceremony for Lao people before major events such as weddings, births, travel or when welcoming friends and… new year, to bring good luck.
One of the first activities preceding Pi Mai is "Xang Hieng Koei". From Wat Mai to Wat Xiengthong, "Xang Hieng Koei", the Elephant Procession is held annually before the Lao New Year parade. Elephants are a cultural symbol in Laos. Probably because Laos used to be known as Lan Xang, the land of a million elephants..
Another unique tradition is the building of sand stupas. Stupas are sacred structures in Buddhist culture. They represent the Buddha's enlightenment. During the festival, Lao people build sand stupas. The stupas are then decorated with colorful flags and flowers. These are a symbol of good luck and prosperity. What we would all wish for the year ahead…
Of course, you would not want to miss the market from That Luang to the Post Office, the alms giving ceremony or the Miss Lao New Year Parade from Wat Xieng Thong to Wat That Noy. The pageant is held a couple of days before.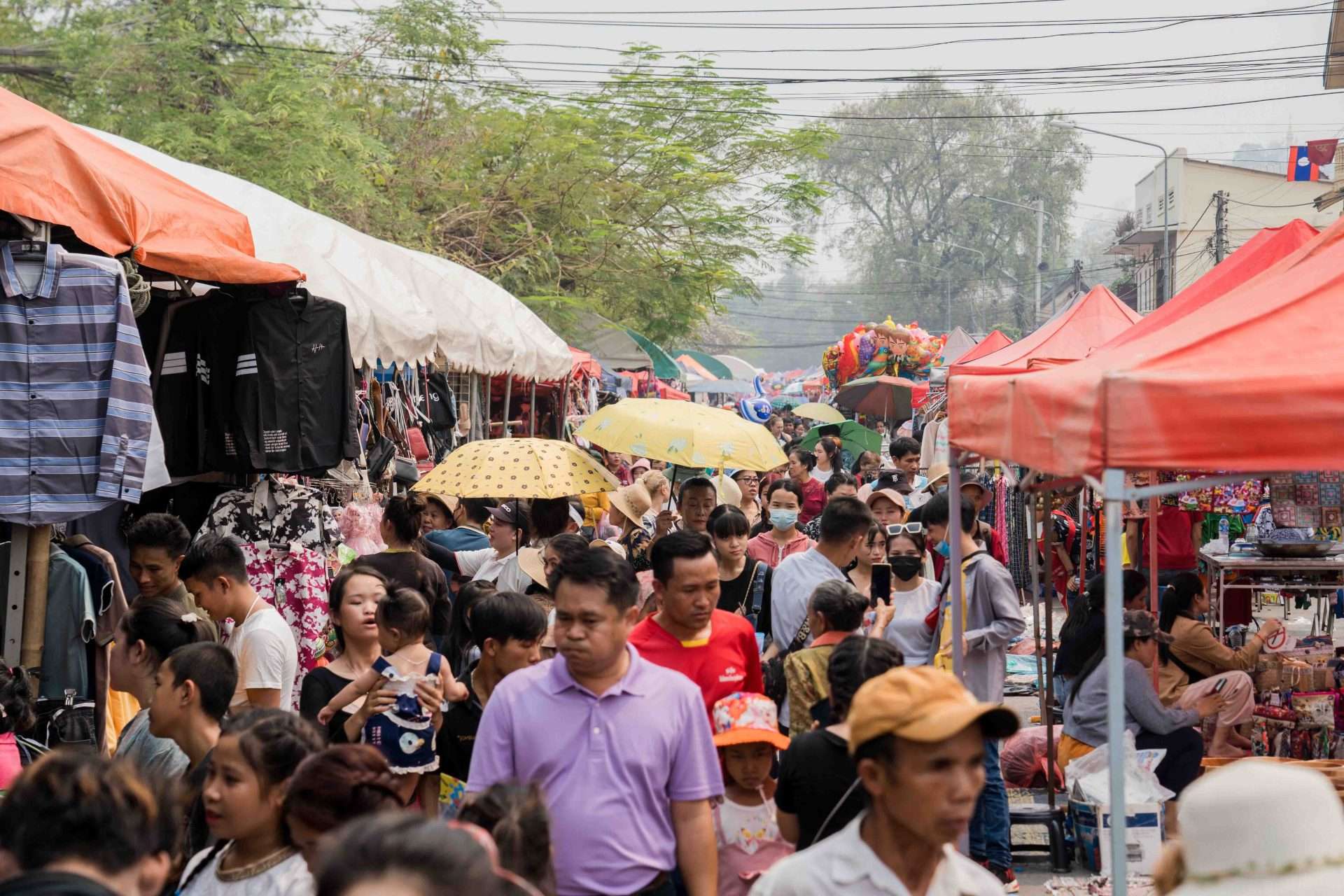 During the celebrations, various temples will bring out their Buddha images for the locals to wash. The locals will visit their temples for more traditional rituals.
The washing of the Prabang Buddha is considered a highly meritorious act.
During the Lao New Year, people gather at the royal palace museum to participate in the ritual of washing the Prabang Buddha. The statue is taken out of its shrine and placed on a pedestal in the courtyard, where it is surrounded by offerings of flowers, candles, and incense.
Washing the Prabang Buddha during Lao New Year is a significant and sacred ritual in Laos. The Prabang Buddha is a highly revered Buddhist statue that is believed to have protective and auspicious powers. It is kept in the royal palace museum in Luang Prabang.
The water is kept by the devotees…
The washing of the Prabang Buddha is considered a highly meritorious act, and it is believed to bring good luck and blessings for the New Year. The statue is washed with scented water, which is poured over it using special ladles made from bamboo or metal.
The water is collected and kept by the devotees, who believe that it has healing and purifying properties. The ritual of washing the Prabang Buddha is accompanied by traditional Lao music and dance, and it is a joyous and festive occasion.
It is also an opportunity for people to come together and renew their faith and commitment to Buddhist principles. The ritual is an important part of Lao culture and heritage and is deeply ingrained in the country's religious and social traditions.
But what most travellers have heard about is most definitely… the water battles on the streets. Some love it, some not so much… See for yourself!
As you saw, the Lao New Year celebrations are so much more than just water fights in the streets. It's a beautiful – and intense – time of the year. So if what you've seen was enough to convince you to come experience it next year, but you need a breather at some point, you know where to find us…
A sweet ending for a new beginning…
As we celebrated Lao New Year a couple of weeks ago, you can bet that a lot of Khao Tom were eaten!What's Khao Tom, you ask? Khao Tom is a Southeast Asian dessert eaten by Laotian and Thai people, consisting of seasoned steamed sticky rice wrapped in banana leaves. Given to the monks and novices during alms giving, it's widely eaten during Pi Mai celebrations. Ingredients and method below! Watch this video to follow along!
Let's Make Khao Tom!
Ingredients
1kg purple rice
500g peanuts
500g black bean
2L fresh coconut milk
500g sugar
1/2 teaspoon salt
Enough bananas to fill your Khao Tom
Enough banana leaves to wrap your Khao Tom
Method
Soak the purple rice overnight
Soak the peanuts and black beans overnight too
Boil all the ingredients together
Wrap in banana leaves (see video for method)
Steam for 45 minutes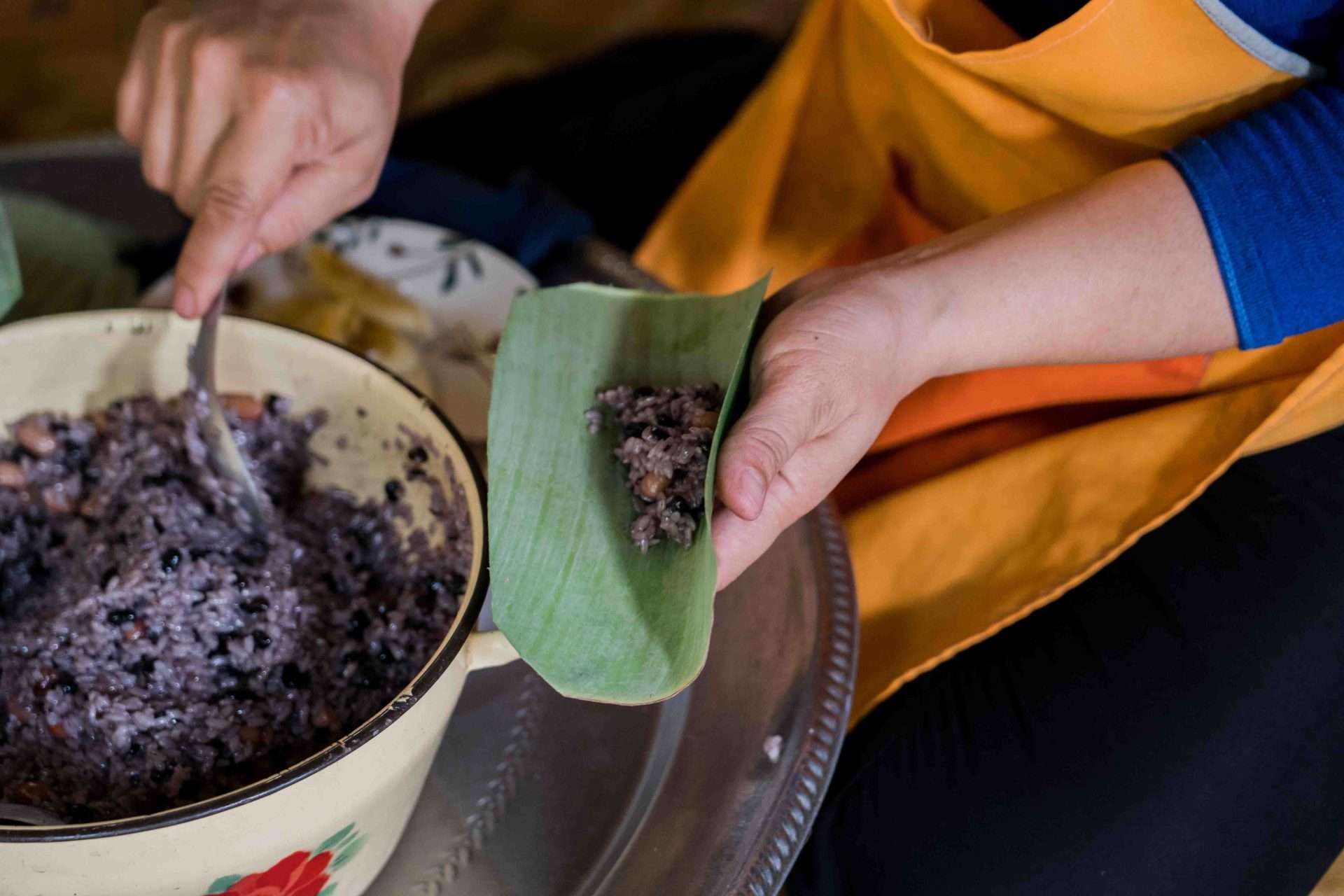 Enjoy!