Just 10 minutes from Luang Prabang, on the other side of the mighty Mekong, lies Ban Chan. You can hop on the ferry and once on the other side, take a tuk tuk or ride your bicycle or motorbike to the Pottery Village. Or you can do like us and contact Thieng Lamphet, the founder of Lao Pottery House. Since 2018, Lao Pottery House has been offering tours of Ban Chan coupled with pottery workshops.
After a short (and sweet) boat ride and dozens of steps up to the village's temple, we're in Ban Chan.
So Thieng arranged for a boat to pick us up at Ock Pop Tok's boat landing station on a sunny (and hot!) Wednesday morning so we could experience the tour and workshop. After a short (and sweet) boat ride and dozens of steps up to the village's temple, we're in Ban Chan. We're surprised by the number of mom-and-pop shops for such a small village. Maybe as many as the number of families of potters…
Nine families…
In Ban Chan, there are nine families of potters.
In Ban Chan, there are nine families of potters. Clay has been the material of choice for generations. However, for a long time, they were making a living from farming and making pottery only for their own use; jars to ferment fish or make Lao whiskey. It's only the current generation that developed pottery making in Ban Chan into a business venture.
Those nine families work mainly for two markets; the tourism market and the local market. For the tourism market, it will mainly be for hotels and restaurants; jars, tableware and some trinkets. For the local market – mainly Oudomxay, Luang Namtha and some other northern provinces – they make jars to ferment fish, preserve bamboo and make Lao whiskey.
The process!
If Thieng's workshop is more modern – electric wheel, gas kiln, etc. – in the village, things have remained more rustic. After a few minutes at his workshop, Thieng takes us on a tour of the village. Each area in the village is clearly marked. There's a plot of land where the nine families get their clay. They each have their "spot" to dig. Thieng – who is not part of one of the nine families – gets his a bit further, on a plot of land belonging to his sister in law and her husband. Thieng is not from Ban Chan, but his wife's family is.
Thieng explains that the families in the village take turns to prepare their clay using the machines donated by foreign governments and… their feet. Unfortunately, we missed this step, but Thieng explains that part of the process of making clay is pounding it with their feet once the clay "powder" has been mixed with water and letting it rest for a while.
Traditionally, the husbands and wives work together…
In a large covered structure, each family has their "space". They all have their clay, manual wheels, ready to work. Traditionally, the husbands and wives work together. The wife will make the "snake" (coil) and spin the (manual) wheel while the husband constructs the pieces. They then let the pieces dry for days to weeks, depending on the size of the piece and the weather. During the rainy season, the finished pieces take longer to dry.
Once the pieces are dry, they use the communal kiln to fire them. The communal kiln is a traditional underground one. 7 meters long, 3 meters wide and 1 meter high, you have to crawl to get into it. They start to fill the kiln starting from the back coming to the front until it's completely full. They then close the entrance with bricks and clay. Only the chimney is above ground.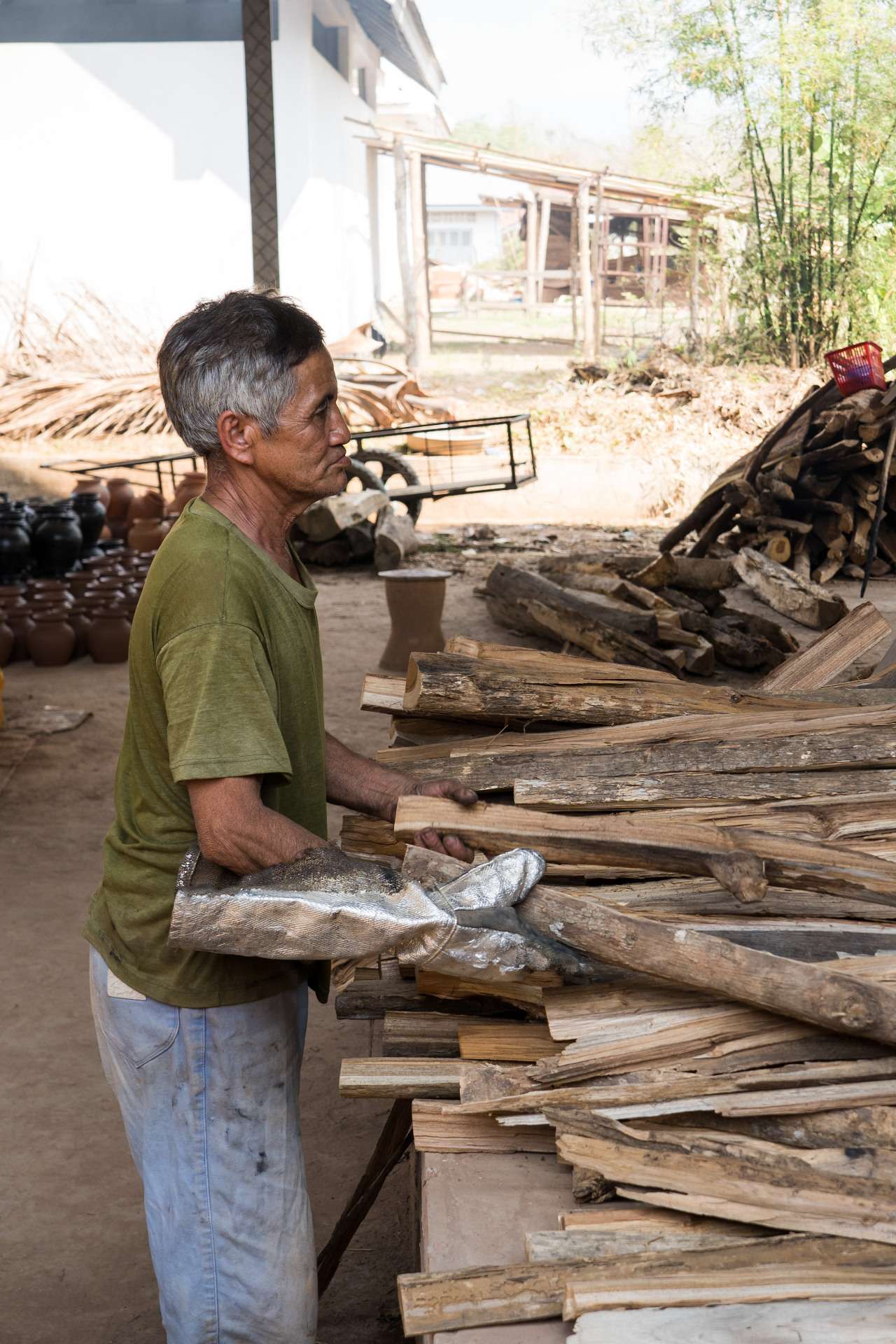 They light the fire, and after 24 hours, when flames start coming out of the chimney, they know that it has reached its optimum temperature and can now be "turned off". The kiln will remain closed for 2 days, until it cools down a bit. Then a little piece of the opening will be cracked to let the warm air out and finally, after two more days, it will be completely cracked open. They will wait for two more days before starting to remove the products from the kiln.
Towards modernity…
As for the clay, Thieng also has his own gas kiln. Investing in this more modern piece of equipment has allowed him to increase his production but also the quality of his products. Thieng tells us that the current generation in Ban Chan doesn't want their children to keep working with clay. They want "more" for their kids and encourage them to study at the university and find an office job or join the police or the army.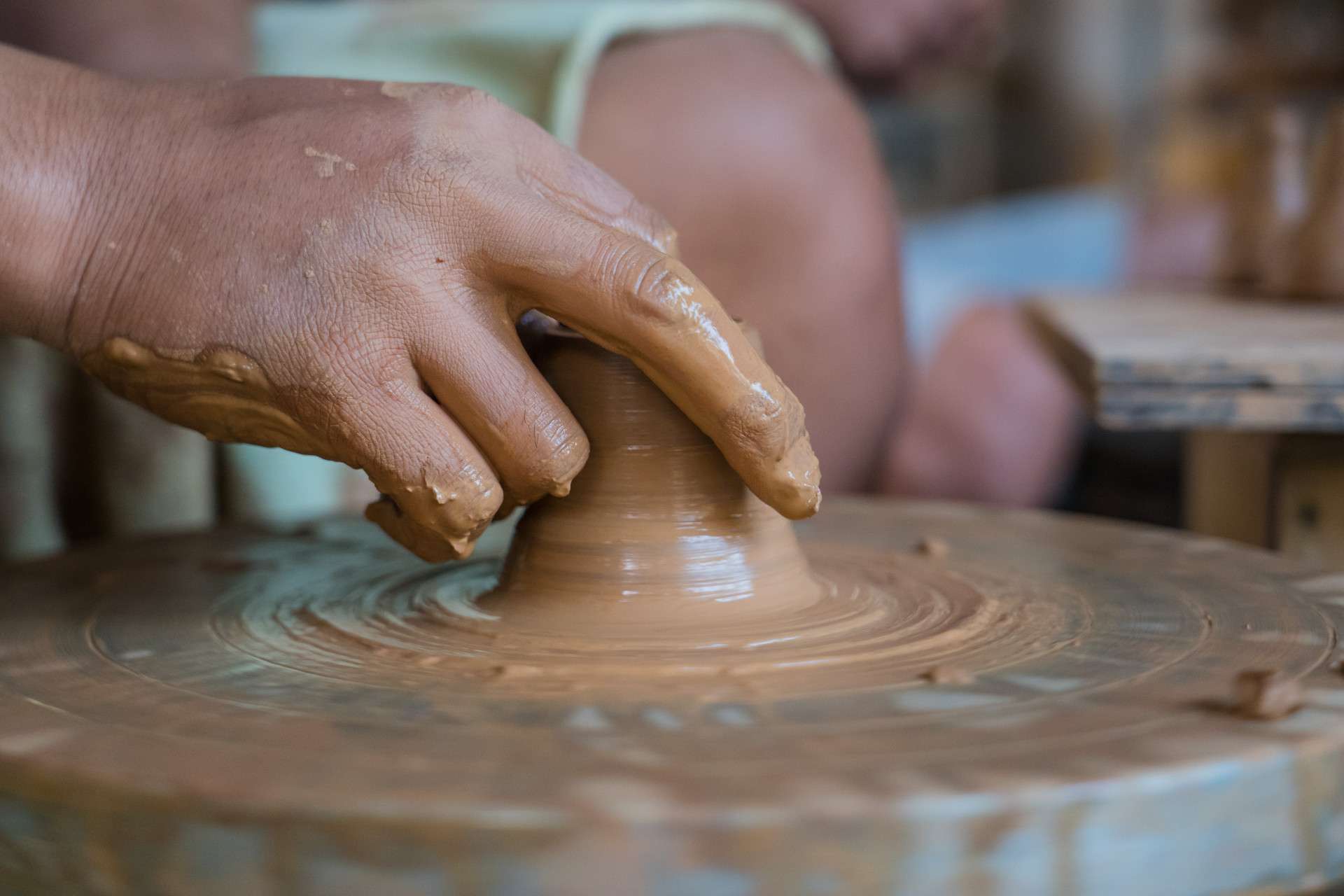 Thieng however believes there is a future in ceramics. Constantly innovating, he wants to show the teenagers that there's a future in ceramics. This is why he has hired some young adults from the village to work with him in his workshop, showing them the way forward.
While visiting the studio, Thieng points out some teapots in the making. They're being made for our Silk Road Café… Our co-founder Jo is on a mission to replace all our tableware with products from Lao Pottery House. So if you stop by our Silk Road Café, you'll definitely see these gorgeous Made in Ban Chan products in use.
Give it a try!
And if you want to know more about Ban Chan and try your hand at pottery, we strongly recommend you book a half day tour with Lao Pottery House. It includes boat pick up, a tour of the village, a pottery workshop and a delicious Lao lunch. Thieng might not have been born in Ban Chan but by marrying a native from the village, he more than embraced the village like his own and only wants to see its pottery industry succeed beyond its borders…
We gave it a try, how about you?
Lao Pottery House, Ban Chan
Facebook: https://www.facebook.com/Laopotteryhouse
Instagram: https://www.instagram.com/lao_pottery_house/
Website: https://laopotteryhouse.com/
WhatsApp: +856 020 52 244 661