After introducing our new series "Hidden Food Gems of Luang Prabang" on social media a couple of months ago, we figured we might as well compile all these good addresses on our website in one spot – this blog – to make it easier for everyone to refer to.
Google "where to eat in Luang Prabang" and an impressive list of restaurants will come up. We also love a lot of those restaurants but we wanted to bring something new, something different to the table, so we asked our team to show us where they like to eat and what they would recommend you try.
Follow us around Luang Prabang for the first four addresses. And keep an eye out on this space if you're planning to visit Luang Prabang any time soon. We'll keep adding new hidden gems to this blog as we go… You can click on the locations to find the spot more easily. These are not places listed on Google. These are places only the locals know about. Places that will give you an authentic taste of Laos…
We're delighted to share them with you and we hope you'll enjoy them as much as our team does!
Episode 1
Khao Khai Jiew Moo Sup with Vin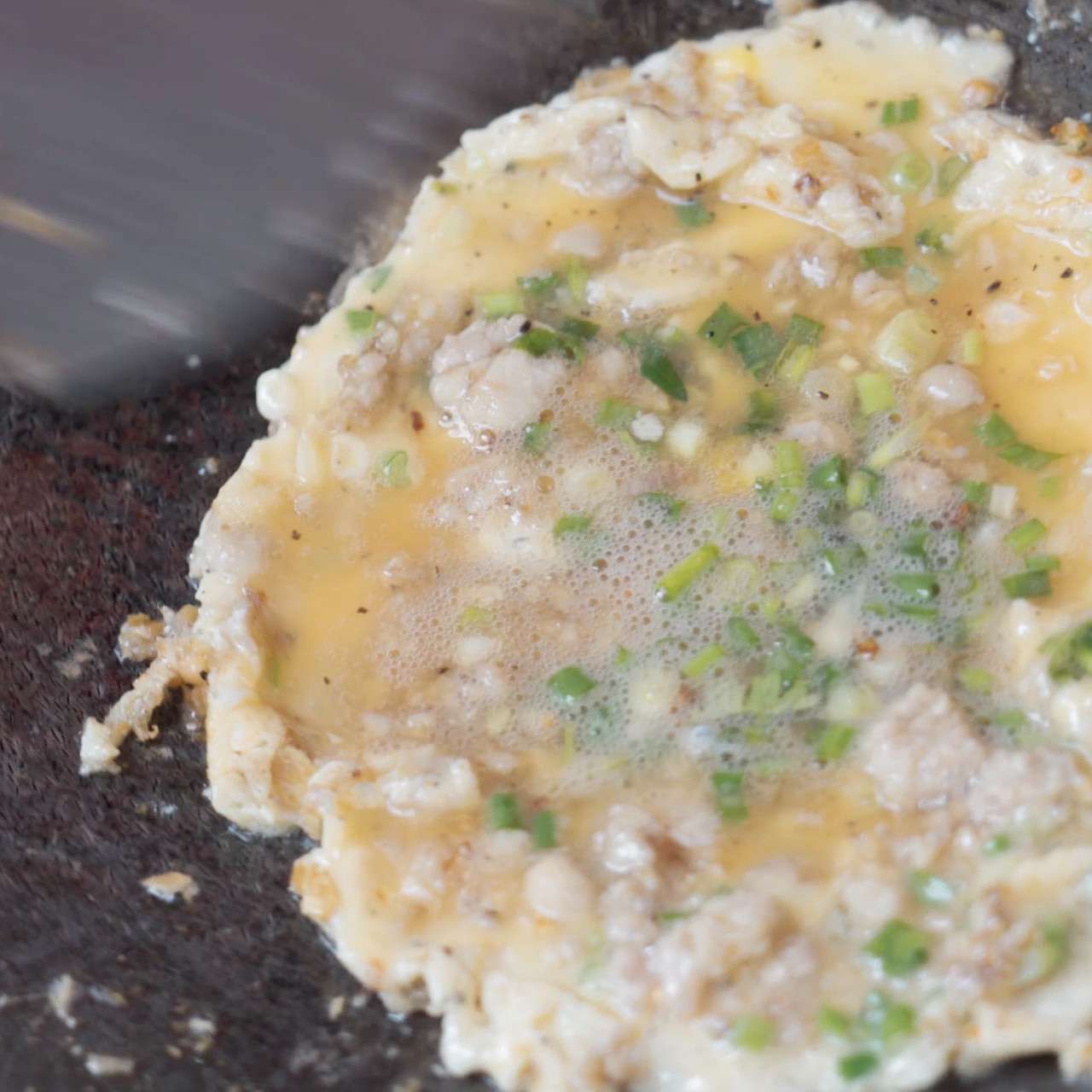 For the first "episode" our Sales and Marketing Assistant Manager, Vin, takes you to 'Loung Nuad' his favorite lunch spot in Luang Prabang. The restaurant is located in Ban Naluang, on the way to Luang Prabang View Hotel, and offers a big variety of local food. Vin's usual pick is "Khao Khai Jiew Moo Sup", which means egg omelet with pork and rice. A must try if you ask him!

Find the location here.
Price: 25000 kip (about $1.5). For one plate including steam rice and an omelet with pork.
Episode 2
Khao Soi with Sengchan
For our second "episode", our beloved Sengchan, Hospitality Manager at our Living Crafts Centre, takes us to 'Lao Coffee Shop', a local restaurant opposite Wat That Noy (near the post office) for a bowl of Khao Soi. The Luang Prabang Khao Soi is very different from the Thai Khao Soi. Not coconut milk in the Lao one but a clear (but delicious) broth and meat cooked with a fermented bean paste.
Aside from noodles they also serve delicious Lao coffee!
Find the location here.
Price: 25000 kip (about $1.5). For a bowl of Khao Soi.
Episode 3
Ping Pet with Ae
For this new gem, our Assistant Hospitality Manager, Ae brings us to his favorite afterwork place in town. "Ping Pet Khaem Khan" restaurant is located on the banks of the Khan river and is a bustling place where locals come together to drink beer and eat grilled duck after work. The perfect place to relax with friends!
Find the location here.
Price: 40,000 kip (about $2.5). For a plate of grilled duck.
Episode 4
Papaya Salad with Moonoy
Snacktime! Our Retail Manager, Moonoy, is taking us to 'Han Tam Euay Taen', her favorite local restaurant in town. According to Moonoy she makes the best 'tam mak houng' (papaya salad) in Luang Prabang.
Moonoy is from Pakse in the south of Laos and when she moved to Luang Prabang 8 years ago, she could not find a papaya salad that tasted like the one she grew up eating. She roamed Luang Prabang in search of THE papaya salad until she met Euay Taen. She hasn't eaten papaya salad anywhere else since then. Of course, other than the one she makes herself…
Find the location here.
Price: 45,000 kip (about $2.5). For a papaya salad, a mango salad and some savory crispy snacks (including pork crackling).