With the bamboo bridge gone, it is now a bit more tedious to get to Ban Xang Khong, known as the Paper Village… But it's still worth the effort. Just take a left off the old bridge! Located upstream on the banks of the Mekong, Ban Xang Khong has been home to several paper producers for many many years. There, paper is still made the traditional way, with the bark of the mulberry tree.
Sheets of paper, cards, envelopes, lanterns, fans, gift bags… you name it, they have it.
Sheets of paper are drying outside of Sa Paper Handicraft, one of the oldest paper shops on the main street of Ban Xang Khong. On the side of the shop, in the shade, a couple of women are busy decorating some (soon-to-be) sheets of papers with local flowers. Inside, the owner Tanh Manipoun invites us to browse through shelves and shelves of paper products. Sheets of paper, cards, envelopes, lanterns, fans, gift bags… you name it, they have it.
How it started…
It's only years later that they developed the business into what it is today…
Euay Tanh tells us how her father started the company years ago, making paper for the monks. They would use the paper to write down their "chants". If we understood well – some things can get lost in translation sometimes – the paper was also used to wrap… opium. It's only years later that they developed the business into what it is today; selling paper to hotels and other businesses around town and also to tourists.
Sa Paper Handicraft also offers classes. There, for a couple of hours, you can learn more about the process of making saa paper and even try your hand at making your own sheet of paper and decorate it with local flowers.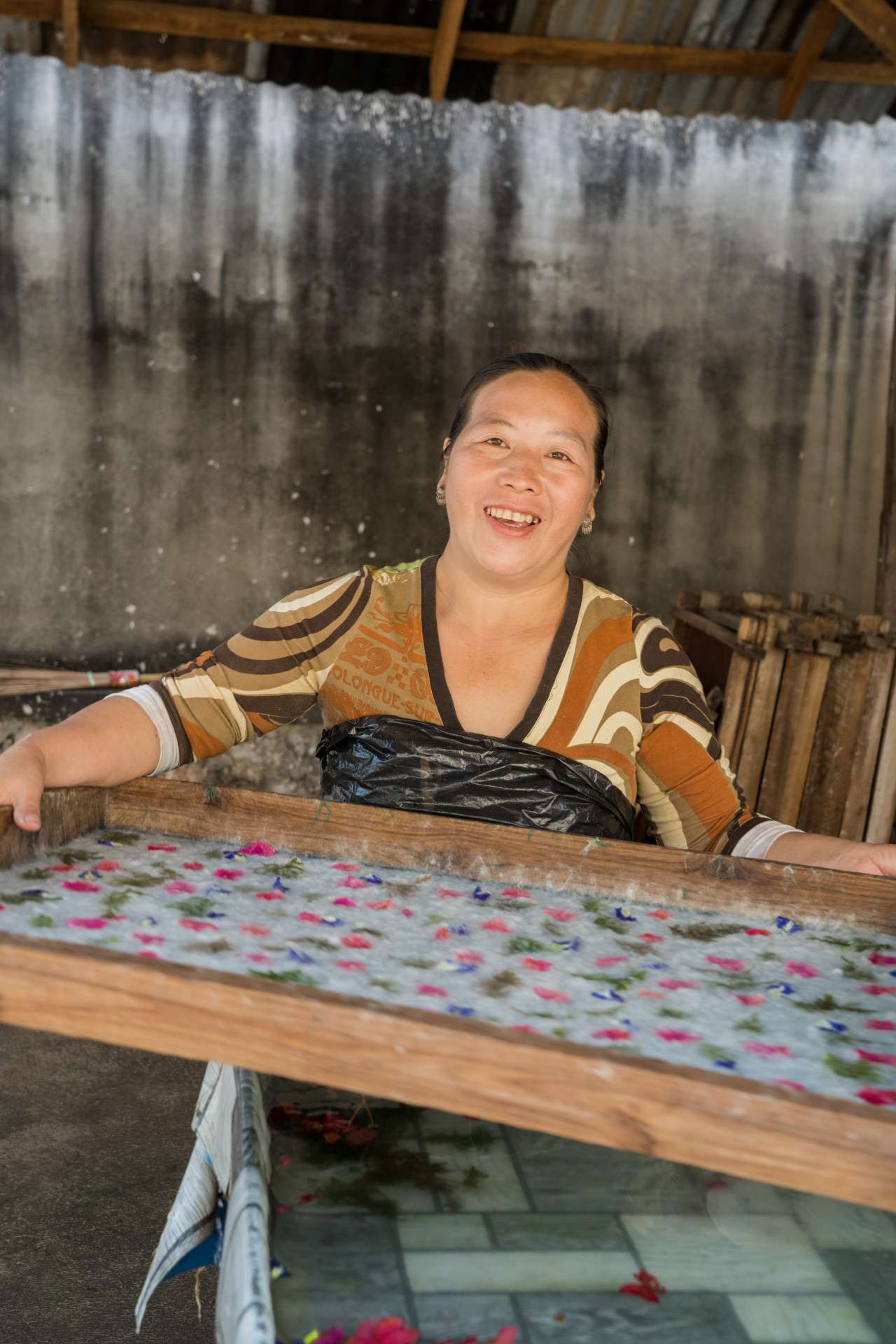 A couple hundreds of meters further, at Simone Handicraft, you can also take some classes and watch the ladies make paper by hand, the traditional way. There, you can still witness the bark of the mulberry tree being transformed into a pulp by the sheer force of their feet or what is called the Buddha leaf being scraped with a toothbrush…
Once all the green is gone, the leaf can be dyed and used as a decoration for handmade paper.
You might have seen those translucent leaves and maybe thought they were made out of some sort of synthetic material. Well, they are not, in Laos, at least. It takes close to three months to "make" them. They are first soaked in water making it "easier" to remove – with the help of a small toothbrush – from what we've seen – the chlorophyll (the pigment that gives plants their green color). Once all the green is gone, the leaf can be dyed and used as a decoration for handmade paper. Fascinating, right?
How it's going…
Just outside of the village, at Porsaa Luang Prabang, we are welcomed by Ting. After studying in China and working in the hospitality industry for a few years, Ting joined the family business – started by her dad more than 20 years ago – as the pandemic closed Lao borders.
The business might have started the traditional way but as it continued to grow, Ting's father invested in machinery, making the production of saa paper more efficient, thus being able to supply many of the businesses in town, including our own, in a timely manner.
It looks very impressive…
Dozens and dozens of sheets of paper are drying in the yard. It makes for a pretty picture, an impressive one even. As we walk through the property with Ting, she explains to us how the paper used to be made traditionally and how it has evolved since then.
In the yard, a few mulberry trees. Showing us some adult trees and some tree shoots, Ting explains that the mulberry tree not only grows fast but it also spreads fast. She just planted a few trees that are slowly reaching maturity and around them, you can already see a multitude of tree shoots…
Theses trees do give people an idea of what a mulberry tree looks like…
But it's not from there that they get their mulberry bark! As they need it in large quantities, their branches are collected from out of town, in the forest. However, the trees on their property do give people – who have no clue what a mulberry tree looks like – an idea. Ting explains that if you cut the branches and leave 50cm, the branch will grow again.
So, how's paper made?
The branches are soaked in water to remove the bark. And as nothing is lost at Porsaa Luang Prabang, the wood is used as kindling. Judging by the size of the "pots", they need a lot of kindling… The bark is then boiled and soaked overnight. It is afterwards cleansed and rinsed.
It's only then that it's ready to be minced. Traditionally this is when the bark would be pounded manually to obtain a pulp. But at Porsaa Luang Prabang this step is done by machines. The paper is then made manually from this pulp.
Some women work here on site, others work from home…
It is kept plain, dyed or decorated. Traditionally the paper would be decorated with flowers but Ting – who loves art – has experimented a bit and uses scraps of colored paper – leftover from some project or another – to decorate the paper giving them a more modern look.
As we continue our visit around the property, in the shade of a veranda some women are busy making paper bags and boxes. Their dexterity is impressive. Ting explains that some women work here on site while others work from home so they can take care of their kids.
Porsaa Luang Prabang supplies paper, paper bags and paper boxes – among other things – to many hotels in Luang Prabang and above. They also export, non only paper, but also (dried) pulp to Korea. The pulp is then rehydrated on site and made into… wallpaper.
The perfect place to introduce kids to paper making!
You can also take classes at Porsaa Learning Centre & Art Gallery. The perfect place to introduce kids to paper making as they have tiny – kid size – frames too. Ting also organizes weekly art classes for the local children using the handmade paper as base, thus cultivating an appreciation for handmade saa paper in the new generation.
We believe the local paper business still has some interesting pages to write…
You can buy our Stripy Kriang Saa Paper Notebook here. Small, but not too small, this sturdy notebook will fit perfectly in your backpack! The beautiful saa paper made in Luang Prabang – covered with leftover fabric – will be the perfect recipient for your to-do lists and other musings!
Our favorite addresses to learn more about saa paper & do a classs!
Porsaa Learning Centre & Art Gallery (Ban Phang Luang)
Email: [email protected]
WhatsApp: +856 20 55 497 828
Sa Paper Handicraft (Ban Xang Khong)
Email: [email protected]
WhatsApp: +856 20 5606 3634
Simone Handicraft (Ban Xang Khong)
Email: [email protected] / [email protected]
WhatsApp: +856 20 2311 8444 or +856 20 2388 3332